In recent news, the public has been exposed to horrific details of accidents involving motorcoaches, often resulting in many deaths and injuries. The most recent, occurring at the time this blog post was being written, involved
a fiery crash in California
. At least 10 have died, and over 34 people are being treated for diverse range of injuries.
With these types of new stories being forefront in the news, and
especially
on the minds of prospective travelers, the question is often asked, are motorcoaches safe? What is the safest mode of land travel?
First, one must consider that overall safety in all modes in travel have become much better. Highway travel being the most dangerous kind of travel, private vehicles traveling on highways have seen
fatality rates cut in half
in the last 30 years. Greatly improved roadway engineering, drastically changed vehicle designs with airbags and energy dissipation systems; and driver training programs, have all played an important role in improving safety on the highways
Still, the fatality rate of travel across all modes runs around 93 people per day! So what are the numbers?
This chart from
Harvard
should help us see the data: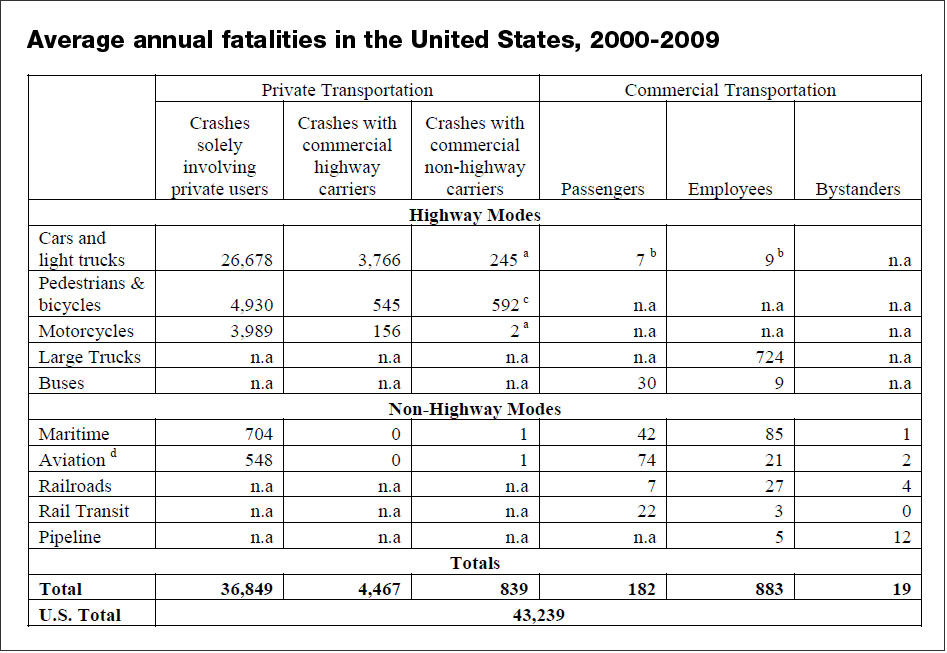 The simple answer is YES, motorcoaches are indeed a safe mode of travel. In fact, years of data indicate it an excellent safety rating as a mode of land travel.
Yellowstone - Old Faithful
OK - its safe you say, but how do I know that the motorcoach I will be traveling, is safe?
First, statistically speaking, your odds of accident or injury are extremely low. So low, making it the safest form of travel on land.
Vehicles with a capacity of 10 passengers or more represented just 0.1% of the total fatalities. On average, there were approximately 40 fatalities per year, with drivers and other bus-company employees representing 25% of lives lost.
Scheduled and charter service accounted for 44% of total bus fatalities. The balance of deaths occurred with school buses (23%), urban transit (11%) and a variety of private shuttles, church buses and other services (22%).
The fatality rate per billion passenger-miles for buses is relatively low, 0.11.
- See more at: Journalists Resource
In comparison, autos account for 74% of fatalities, and as you can see from the chart, in an average year, over 26,000 people will die in a car or light truck every year, while only 39 in a vehicle of 10 or more passengers (and less than half of those are in charter coaches, the majority being school and transit buses)
Mt. Rushmore
Second, each motorcoach company is regulated by the
Federal Motor Carrier Safety Administration
. the FMCSA has high standards for equipment, driver hours of operation, frequency of vehicle inspections, reporting, and more. The FMCSA, and your state often setup surprise inspection points during peak motorcoach travel seasons, and inspection is mandatory. Some municipalities also facilitate special inspection stations, as seen in this
video.
Third, all interactions, especially violations are made public, via the FMCSA website. Here you can review the actual ratings for motorcoach companies, review their safety rating, and 3 year history.
If you are going to travel, or book by, a motorcoach, you can check the rating at the
Company Safety Records
on FMCSA, and if you are more mobile device inclined, they even have a special APP for the same purpose called
SAFERBUS
.
Lastly, the FMCSA will put any company out of service for violations, poorly maintained equipment, and other unacceptable safety conduct. Just in the last 12 months they have put out of service 3 inept companies in the Metro Phoenix Area. When it comes to your safety, this is to be expected, and we should be thankful that this occurs when necessary.
Utah State Capitol
Rest assured that
East-West Global Tours
takes motorcoach safety seriously, and we only work with companies that provide excellent service, and have commendable safety ratings.
Arches National Park
In the
Southwest
, we are honored to work with
Arrow Stage Lines
. They have a fine rating, as seen
Here.
LDS Nauvoo Temple
In the Northwest, we are pleased to send our tours with
Holiday Motor Coach.
They also have a fine rating as seen
Here
.
Ride
with us on
tour
, and you will see why our preference are with carriers who provide us with modern, safe equipment, with many amenities (sun roof, wifi, seatbelts, ADA wheelchair capable), driven by some of the finest professionals in the industry.
Let us answer your questions about motorcoach safety, or share with us your
stories
about bus tour travel -good or bad - we would love to hear them! (They could become topics in a future article)
Grand Canyon with East-West Global Tours